Physical security measures and access control are key elements to keeping your business safe. Our advanced access control system allows your company to centrally monitor and manage access to doors, elevators and other protected spaces located throughout facilities of any size, including multi-site installations. The software that controls access is browser-based and packed with management and reporting features designed for ease of use and intuitive operation.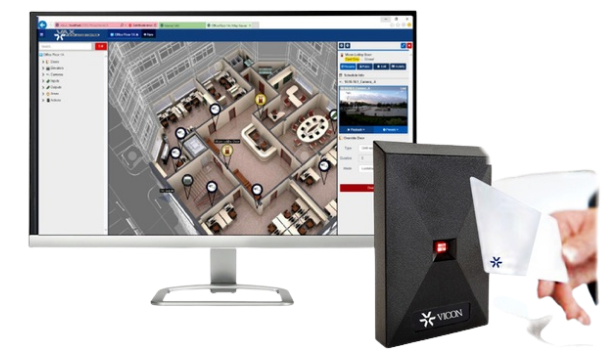 Groundbreaking technology.
VAX access control technology is the cutting-edge physical security solution to secure, control and audit assets. Vicon's powerful VAX Access Control solution, designed for ease-of-use and fl exibility, combines intuitive user interface soſtware with versatile hardware, delivering absolute control and real-time views from any web-browser device. It is a solid foundation of any comprehensive security solution, delivering a highly secured security operation.
KEY FEATURES INCLUDE:
INNOVATIVE CONTROLLER ARCHITECTURE
The distinctive VAX over-the-door controller was built with a single-board design offering an embedded 'Request to Exit' motion sensor, status LEDs, on-board communications, back-up battery support and removable terminal blocks.
SMART, RESPONSIVE WEB-BASED SOFTWARE
Full featured web-based software solution that is incredibly easy and intuitive, with hot buttons for daily tasks, an overall summary screen for reminders, and tree formatting for quick viewing. Responsive HTML5 interface adapt to best suit any browser-enabled device.
SEAMLESS SOLUTION INTEGRATION
Flexibility to integrate with your existing security and business systems, such as fire control, intrusion detection, video surveillance, and elevators for a total building security system.
ADVANCED MAPPING
Ability to create custom map-based interfaces that display physical placement of VAX devices, through which users can immediately call up associated data and video.
USER TIME TRACKING REPORT
Provides a summary of total hours that specific individuals spent within a defined area.
ACTION CONTROL ENGINE
Global linking in your access control systems and allows simultaneous action executions and scalability limited only by the hardware it's running on; mix and match over 40 customizable actions.
VIDEO VERIFICATION INTEGRATION
Automatically link Valerus VMS video clips with corresponding VAX Access Control events, and view them immediately within the VAX interface. 
UNMANAGED DOORS
Monitor doors that are not controlled by VAX. These doors are added in VAX as "Unmanaged" door type.
REPORT TEMPLATES
Quickly and easily view the status of your entire system Powerful Security Administration Reporting. Detailed Reporting of User, Door, Floor, Input and Output activity. Save selected report options in a template, which can be quickly recalled later.