COPIERS / MULTI FUNCTION DEVICES
No matter the size of your organization, DRP Solutions can provide your business with an award-winning multifunctional device that can copy, scan, print, fax and more! DRP Solutions is an authorized Konica Minolta reseller and a partner of Kyocera. Through these relationships, we have access to the greatest technologies in our industry. All equipment we provide is backed by award-winning service technicians who are dedicated to ensuring your selection of the right machine and satisfaction with its performance.
QUALITY OFFICE COPIERS HELP YOU SAVE TIME
If you're using inkjet printers or multi-function devices and find that they no longer meet your needs, it may be time to upgrade to an office copier. Office copiers provide efficient means to produce all your documents with high speed and precision.
BENEFITS OF A SMALL OFFICE COPIER
For many companies, a multi-function printer suffices to handle their printing, copying and faxing needs. If your company produces high volumes of output, a workplace copier might be a good financial investment. A basic office copier offers higher print speeds than a multi-function printer; innovative models can deal with up to 90 pages per minute or more.
Workplace photo copiers also offer advantages like ease of use, integrated memory, and completing features like binding, collating and stapling. You might discover that a standalone photo copier may be exactly what your organization needs to reduce downtime and boost efficiency.
CHOOSING THE RIGHT COPIER FOR YOUR BUSINESS
If you're thinking about upgrading your workplace print environment to consist of a standalone photo copier, speak with the professionals at DRP Solutions! We have assisted thousands of local organizations in finding the perfect office copier to fit their office environment and we can assist you too. A high-quality photo copier will improve performance with faster copy speeds and enhanced print quality, all for a lower expense per page.
KONICA MINOLTA PRODUCT LINE
The Konica Minolta MarketPlace
The MarketPlace offers award-winnings apps to customize your bizhub multifunctional printer. In addition to incorporating announcements and providing document libraries of forms and templates, the MarketPlace provides access to Microsoft SharePoint, Box, OneDrive, Google Drive and Email, etc., to optimize your workflow. This cutting edge technology makes accessing your printable documents as convenient as the tap of a touch-screen.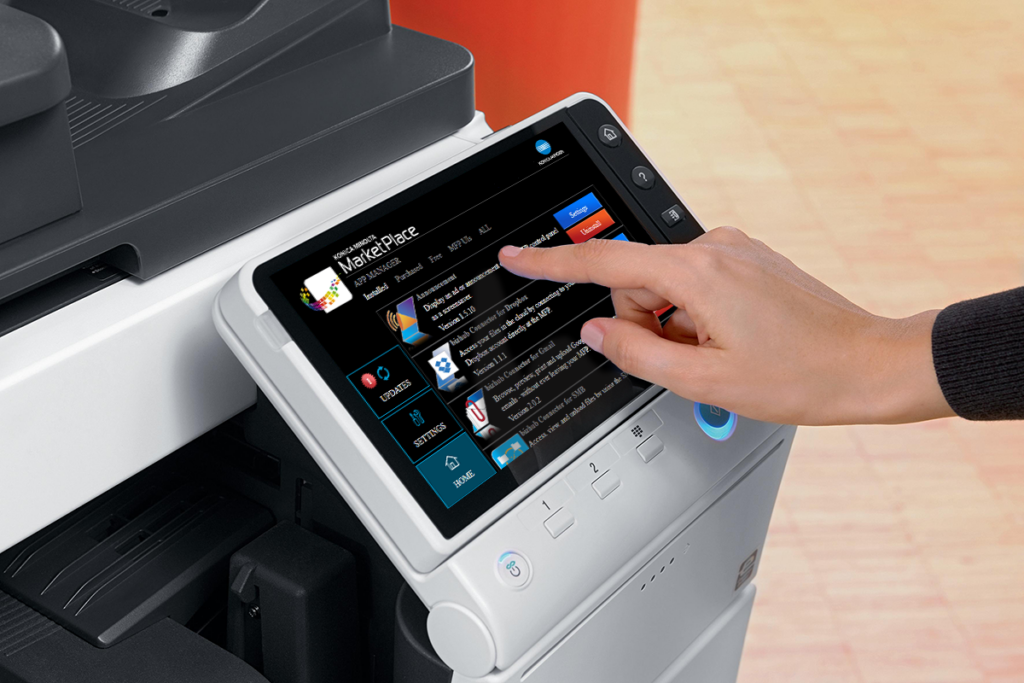 The Konica Minolta bizhub i-Series is a new line of high performance IoT-enabled copiers designed with the future in mind. These machines are simple, secure and convenient. With built-in WiFi and connectivity to Dropbox, Google Drive, OneDrive, Gmail, SharePoint, Microsoft Exchange and other distribution applications, you can streamline your workflow and manage efficiency with the click of a button. Keep your documents secure and organized with advanced antivirus technology and document management software. The i-Series is ENERGY STAR certified, which helps lower energy consumption and save on costs. These multifunctional copiers are customizable and easy to use.
Konica Minolta's bizhub devices bring award-winning technology to your office. With high speeds, ease of use and seamless software integration, you'll maximize printing, copying and scanning efficiency.
Kyocera's ECOSYS printers and multifunctional devices offer cost-effective and long-lasting printing solutions. These devices fit many office environments to meet a variety of IT needs.
Kyocera's award-winning line of TASKalfa multifunctional printers utilize ECOSYS technology to offer outstanding image quality and effective office productivity.