Quench your team's thirst with our unique, 99.9999% germ-free Waterlogic hot and cold water dispensers! Our dispensers can save up to 70% of costs compared to bottled water solutions, and are equipped with unbeatable Firewall® UV filtration systems and BioCote® natural antimicrobial protection. Your employees' safety and hydration come first with these point-of-use machines. Given the heightened health precautions in today's office, you can be confident that users will maintain social distance when you install foot pedals to add to your Waterlogic dispenser – go hands-free while still enjoying pure water! Interested in water solutions?
OUR DISPENSERS ELIMINATE COVID-19!
Waterlogic's Firewall® UV Filtration system has been proven to be 99.999% effective in eliminating COVID-19 from your drinking water.
Firewall disinfects the water supply by exposing it to a high dose of UVC radiation as it flows down then up through the unique double-helix spiral. Any pathogen present in the water is then deactivated, as its DNA gets permanently damaged, and it becomes harmless.
Firewall's intense UVC light also acts as a powerful barrier, stopping viruses and bacteria from entering the system and sanitizes the nozzle to prevent cross-contamination between users.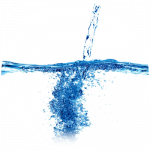 With our bottle-less water dispensers, your employees have instant access to fresh, pure drinking water at all times. Eliminate the waste and cost of bottled water.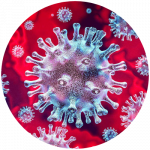 Our natural antimicrobial BioCote® protection ensures that the surfaces around the dispensing area are safe from bacteria and mold. The silver ion additive provides a barrier against microbes which may cause illness, odors or staining. In today's office environment, with shared facilities, circulated air and high contact surfaces, a completely hygienic water dispenser guarantees safe and sustained use by your employees.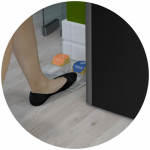 Built with simple buttons and icons, each dispenser is designed with the user in mind. With our add-on foot pedals, you can ensure proper social distancing and a hands-free experience.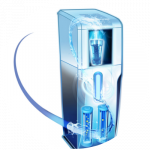 Drinking water undergoes multi-stage filtration through our tested and certified dispensers. Our technology removes metals, chlorine, bad taste and germs to deliver water at the highest possible standards. Waterlogic Firewall® is the only water dispenser purification technology in the world to be certified to both NSF/ANSI 55 Class-A standard and to P231 protocol for Microbiological Water Purifiers.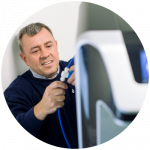 Every machine is delivered, installed and serviced by fully qualified engineers.