Stay connected to your staff and clientele with advanced Voice over IP telephone systems! DRP Solutions can help ensure business continuity and seamless remote work communications, especially as teams go remote. We deploy Unified Communications (UC-One) systems that keep your team connected across devices for voice calls, instant messaging, video chat and screen sharing. Transform your business by gaining access to applications that keep your team agile and productive. 
KEY MANAGED VOICE FEATURES INCLUDE:
CONFERENCING:
Beyond supporting conference calls, the VoIP system allows users to send files, chat messages, calendar collaboration and shared screens.
EXTENSIONS:
Your VoIP system can be arranged to enable multiple extensions, message extensions and even mailbox-only extensions.
CLOUD-BASED SOLUTION:
The internet is your single source of transmission for both your voice and data. This lowers costs and gives instant access to many capabilities.
SIMPLIFICATION:
Answer calls from any device, enhance call reliability and create a phone system with a single point of contact.
VOIP OPTIONS:
VoIP Hosted PBX is a remote, hosted, cloud-based solution that delivers HD voice with advanced features. Hosted PBX is one of the fastest growing and cost-efficient services for SMBs. You'll receive one platform, one bill and one point of contact that delivers increased flexibility, low maintenance, simplification and advanced features, such as call forwarding to multiple devices and locations. This solution builds redundancy into the network, eliminates on-site PBX equipment, reduces long-distance costs and reduces/eliminates traditional phone lines. You can even create a cloud-based call center using hosted PBX!
VoIP SIP Trunking utilizes your existing internet connection to provide a blend of voice and data traffic onto a single IP circuit. The service delivers dynamic bandwidth allocation while supporting FXS, PRI and T1 connections. Benefits include one bill and one point of contact for local and long-distance calls, as well as simplification of the overall experience. You'll experience reduced Op-ex for voice and data service as well as futureproofing with IP services.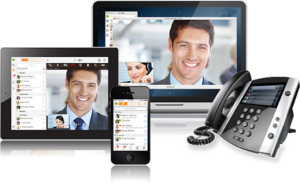 As you're considering a transition to VoIP phone systems, learn about the most applicable features that will enhance your communication.
Read More