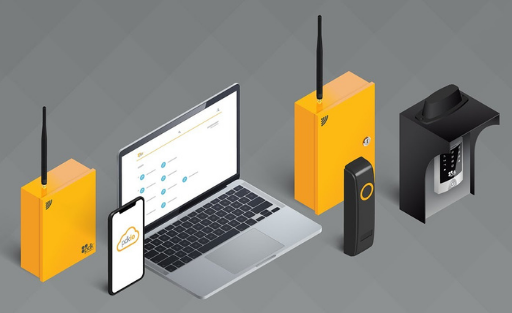 Use Cloud Technology to Control Door Access
The ProDataKey cloud based platform enables you to manage your system from anywhere. New features are available immediately with automatic updates.
Versatile. Cost Effective.
The Cloud Node is the main system panel and is the gateway to the pdk io cloud platform. It also includes a single io (one door controller) to get your first door up and running. Each site requires one Cloud Node with an Internet connection or optional cellular device. The Cloud Node then communicates with all local door controllers while storing all data on-site in case of an Internet outage. Ultimate flexibility is achieved by using Ethernet, PoE, and wireless controllers with the Cloud Node.
Cloud Node Features
Connects to pdk.io Cloud Platform
Pdk.io provides the most powerful and streamlined access control platform on the market. Experience full configuration and management from any internet-connected device. Manage users, create groups, open and close doors, set system rules, get text & email alerts, and more, all in a single app.
Plug n' Play Connectivity
All io devices were designed to be plug n' play. That means they're super easy to install right out of the box. It's easy to add in any io device no matter how large the job is, and you can quickly scale a system to any size. The Cloud Node can connect to up to a thousand doors on a single platform.
Perfect for Single or Multi-Door Installs
In addition to connecting to our cloud platform, the Cloud Node also doubles as a single-door controller. It's the only device you need for a single-door installation. Just connect to the network and door hardware for a streamlined installation.
Upgrade Any System
Backward compatible hardware makes system upgrades and takeovers a breeze. Simply replace any existing panel with a Cloud Node and io controllers, then connect it to the network to instantly bring the system into the cloud.
Fully Supervised
Never be caught off guard again. Pdk.io intelligently monitors the network and wireless connectivity of each controller in your system and alerts you if any issues arise.
Automatic Software Updates
Experience future-proof access control that's always secure, and up-to-date. The Cloud Node updates automatically as new features and security enhancements become available.