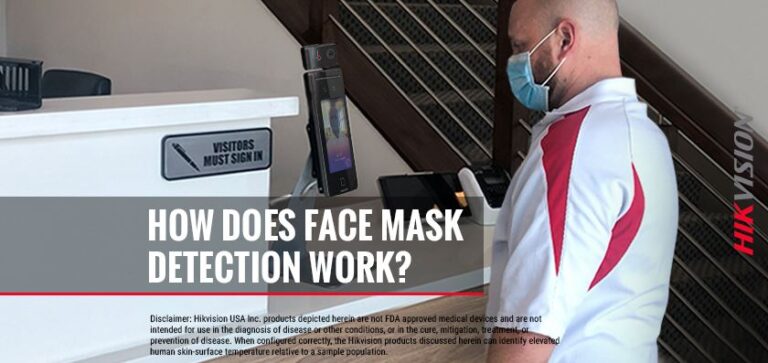 How Detecting Face Masks Can Enhance Safety and Mitigate Risk
Wearing face masks is an integral part of daily life that helps to mitigate risks. Masks help to reduce the spread of germs from the coronavirus and other illnesses, and they enhance safety for indoor spaces at a variety of businesses, as well as industrial and commercial facilities. Face mask detection is an important part of ensuring that people in your facility or building—whether staff, vendors, visitors or customers—are wearing masks to protect others in the indoor environment. So, just how do these mask detection solutions work? Keep reading to learn more about how automated face mask identification can improve safety in a wide range of industries and organizations.
What Is a Face Mask Detection System? 
Mask Detection systems are automated technology solutions that can help businesses identify if a user, staff member or visitor is wearing a mask. These systems use the latest in Deep Learning algorithms and innovative technology to recognize from a safe distance if a person who enters a building or facility is wearing a mask.
Many of these Face Mask Detection systems are touch-free and verify masks with automated camera image scanning and can provide audible notifications that remind an individual to wear a mask before they leave the lobby area and enter the premises.
Certain advanced face mask detection solutions also provide simultaneous skin-temperature screening using advanced thermographic thermal scanning. Used in conjunction, these solutions can deny entry if a person has an elevated temperature and is not wearing a face mask for protection.
Why Should Your Organization Use a Mask Detection Solution?
Many businesses, such as grocery stores, use security guards or other manual forms of verification to ensure people are following guidelines for wearing face masks when entering a retailer or business. This method requires one-on-one attention, is manual, and takes more time per person.
With automated mask detection technology, a security camera or access control terminal will automatically identify people and their masks.  
Mask Detection cameras can be used with software and other systems to collect data electronically for safety and record-keeping, instead of keeping manual pen-and-paper records. This can help business track historical data.
One manufacturer solution enables access control with temperature verification and mask detection. Plus it allows the user to fill out an electronic health questionnaire without having to touch a public device, reducing the risk of spreading germs. By scanning a QR code on a screen, the visitor can access and fill out health data to be allowed or denied entry. This reduces risk and allows organizations to track health data electronically.
When to Use a Mask Detection Solution
Private businesses across industries, office buildings, retailers and grocers of all sizes, hospitals, and industrial and commercial facilities should all use a mask detection solution to mitigate risk and improve safety. Mask Detection solutions help to identify one basic protective measure before a person comes into contact with others. This may help to reduce the spread of coronavirus and improves visitor and employee health and safety.
If a person tries to enter an area without a mask, an automated alert to wear a mask can remind the user to put one on. If they refuse to wear a mask, they will not be allowed to enter.
Making the Right Choice: Cost & Other Mask Detection System Considerations
There are a wide range of face mask detection solutions available on the market today that can meet various application needs and budget price points. Solutions can include the use of existing conventional security cameras for a cost-effective option. There are also several solutions that integrate access control with mask detection for an all-in-one solution.
Whatever Mask Detection system you select, make sure it meets the unique needs of your organization and your industry's regulatory compliance requirements. Your investment in automated mask detection solutions benefits your organization by improving safety and reducing risk.
Hikvision Mask Detection Solutions
Hikvision offers a wide range of automated Mask Detection solutions and product configurations to meet various application needs. Conventional Hikvision network security cameras can be paired with our Deep Learning DeepinMind NVR to provide this solution. Hikvision Access Control Temperature Screening Terminals combine traditional access control verification with mask detection, and can provide skin-surface temperature screening as well. 
Mask Detection can also be performed using Hikvision's unique line of temperature reading cameras for proactive skin-temperature screening and mask detection. Hikvision has several housing models—bullet, turret and handheld—in its highly accurate thermographic camera series for skin-temperature screening and face mask detection.
Hikvision's extensive selection of Mask Detection cameras, terminals and more offer a comprehensive portfolio of solutions at a competitive price. 
*Disclaimer: Hikvision USA Inc. products depicted herein are not FDA approved medical devices and are not intended for use in the diagnosis of disease or other conditions, or in the cure, mitigation, treatment, or prevention of disease. When configured correctly, the Hikvision products discussed herein can identify elevated human skin-surface temperature relative to a sample population.