PROVIDE CLEAN WATER TO YOUR TEAM
The Waterlogic filtration system is best in class. It captures germs, dirt, debris and microscopic particles as it prepares the water to drink. We recently changed the filter on the dispenser in our office and were surprised to see how much the filter caught in just a few months. Follow along below to see how you can provide germ-free, hands-free, bottle-free water to your team!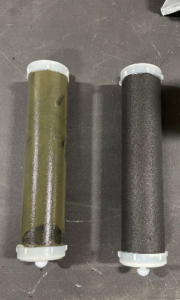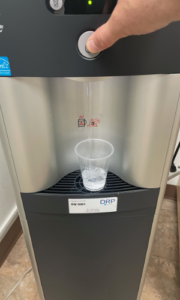 Clean water from our Waterlogic machine
A powerful combination in the fight against germs.
It only takes a person with a cold, virus or infection, or someone unaware they are carrying the COVID-19 virus, to touch the dispensing nozzle with their glass or drinks bottle to potentially spread germs between users. They may even touch the dispenser with their hands without realising it.
Our Waterlogic freestanding and countertop dispensers come with exclusive technology to ensure your dispenser is hygienically protected on the outside and your water is thoroughly purified and safe to drink.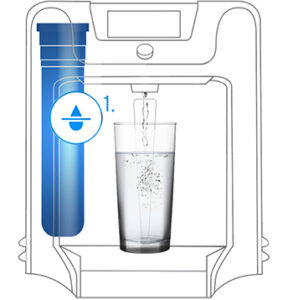 Step 1
High performance filters remove contaminants, unpleasant tastes and smells.
Our best-in-class carbon filters remove sediment, chlorine and other contaminants, neutralizing bad tastes and odors from your water whilst allowing naturally occurring and beneficial minerals to pass through to guarantee great-tasting, clear water.
Step 2
Firewall™ safely purifies water up to 99.9999% bacteria-free and guaranteed effective against COVID-19.
Unlike any other mains-fed dispenser, our patented Firewall UVC technology thoroughly purifies water all the way through to the dispensing nozzle. This prevents bacteria like Legionella, Salmonella, E.coli, and viruses like Hepatitis and COVID-19 getting into the system, contaminating your drinking water and potentially causing illness.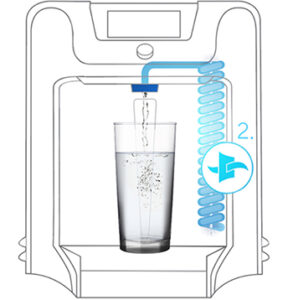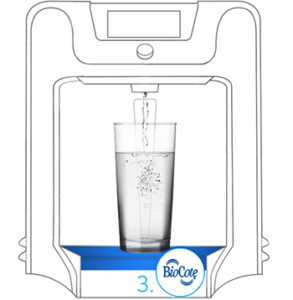 Step 3
BioCote® reduces microbes by up to 99.5% within 2 hours.
Exclusive to Waterlogic, BioCote® built-in antimicrobial protection restricts the growth of bacteria and mold around the dispensing area and filter, reducing the potential for cross-contamination and keeping the dispenser fresher and cleaner for longer.
Exclusive to Waterlogic in the category for commercial use mains-fed drinking water dispensers and solutions.
BioCote® technology does not protect users or others against disease causing bacteria, germs, viruses or other harmful organisms. This technology is not a substitute for good hygiene and/or cleaning practices. BioCote® has not been tested or proven effective against SARS-CoV-2.
Step 4
Hands-free dispensing offers added peace of mind.
Our hands-free solution means there's no need to touch buttons and dials so there's even less opportunity to spread germs between users. Our foot pedals can be added to any Waterlogic freestanding dispenser along with tent cards and stickers to remind users to adhere to social distancing and hygiene protocols.